Wedding Celebrants in Italy is a team of symbolic, civil and non denominational wedding celebrants in Italy. Our team can perform symbolic blessings, commitment and wedding ceremonies, non denominational weddings and blessings, humanist weddings or vows renewal in whichever location and venue in Italy, Switzerland and Montecarlo. IWC is LGBT friendly and can serve virtually every city in Italy including marriages in Venice, Lakes region, Tuscany, Rome, Amalfi Coast and Sardinia or Sicily for personalized marriage ceremonies at the most amazing locations. Our celebrating ministers or wedding humanist celebrants have a deep knowledge of Italian and international traditions and can grant several years of expertise. The symbolic ceremony can recall symbolism and civil unions but also have an interfaith or multicultural touch. At Italian Wedding Celebrants we believe that LOVE IS LOVE, and we proudly perform Gay Wedding Commitment ceremonies at any venue in Italy. Ceremonies can either be symbolic weddings, humanist weddings, blessing vows renewals or non denominational symbolic blessings.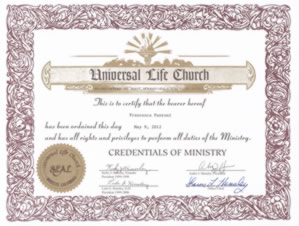 Some of our symbolic Wedding Celebrant in Italy are certified ministers of the Universal Life Church or were formed in the Vatican with religious studies. Weddings and Blessings can be celebrated anywhere in Italy in Italian, English, Portuguese, Russian, French, Spanish, or with the help of professional interpreters also in German, Chinese or other languages. Some of our wedding officiants can celebrate in two languages other than Italian (i.e. English and Portuguese, or Russian and English etc). Our Italian Wedding Officiants and Celebrants might be authorized by the local authorities (depending on the town hall and municipality) to perform a civil legally recognized wedding with a deep customization, celebrated in the premises allowed by the local municipality. The cost of a wedding celebrant in Italy depends on the venue and the distance between the wedding ceremony and the place of the officiant. Fees start from 450€ during weekdays. In case of civil weddings, the fee to the municipality will be separate from the celebrant fee.
We assign the nearest and most appropriate celebrant to each couple, and only after having discussed with him/her, you will be asked to make a decision whether to move on with him/her. Your relationship will be directly managed by the assigned certified celebrant.
Contact us here